Roof power station
Installing solar panels on the roof of a medium-sized house can provide the household with electricity at least in the amount, which is sufficient for the operation of vital systems. Such equipment includes pumps, that are responsible for the circulation of the coolant, wells for water supply, lighting, communications.
The solar roof turns light into electricity. The energy collected throughout the day accumulates in the batteries and remains available at any time, which allows the efficient use of resources. Autonomous power supply is:
independence from emergency outages, especially frequent in rural areas;
feed when the power sags during peak hours;
saving on utility payments;
the ability to sell excess electricity received from the solar roof, according to the green tariff to the state.
Despite the rather high starting cost, the project fully pays off within 6-8 years. The service life of modern solar panels for a roof based on semiconductor monocrystals is at least 25 years.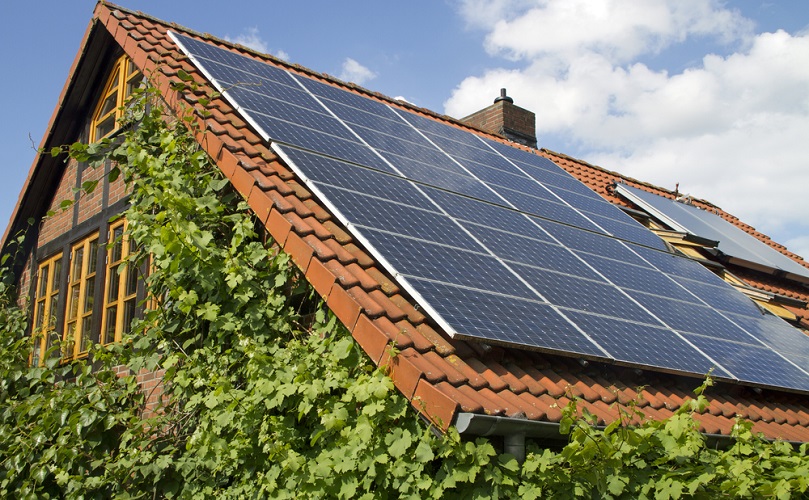 "Karbon CNS" offers at favorable prices design and installation of solar panels on the roof
We are one of the first companies in Ukraine to master solar energy technologies for the home. Our specialists will not only help you buy a set of equipment from the world's leading manufacturers for your solar roof, but also hold a full turnkey package of installation of solar panels on the roof:
Estimate the strength parameters of the roof.
We will design a system for solving specific problems.
Pick up and deliver everything you need to the object.
Install the solar roof and put it into operation.
Legalize the object and connect it to the green tariff.
We provide a guarantee for equipment and work. If necessary, we will take care of maintenance. We have the best prices for solar panels on the roof and their installation.