TOP solar power plants in Ukraine by capacity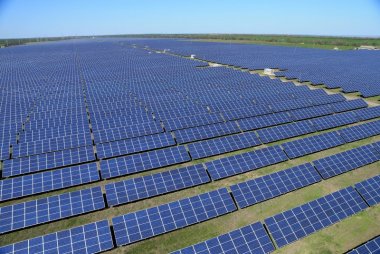 A decade ago, solar power plants were built only in the south of our country. Currently, it is a widespread business developing in almost all regions. Investors, both foreign and domestic, are attracted by high (at "green tariff") rates
A decade ago, solar power plants were built only in the south of our country. Currently, it is a widespread business developing in almost all regions. Investors, both foreign and domestic, are attracted by high (at "green tariff") rates. Now, the largest solar power plants in Ukraine are concentrated in the following areas:
Dnipropetrovs'ka - with a capacity of 290 MW;
Odes'ka - with a total capacity of all solar power plants of 240 MW;
Vinnyts'ka - total capacity is 228 MW;
Khersons'ka - joint capacity is about 100 MW.
Today, in Ukraine, there are approximately 10 thousand private and more than 2 thousand industrial solar power plants.
Ukrainian solar power stations on the map
The efficiency of solar panels depends on the insolation of the Sun. Simply put, the amount of solar energy falling on a unit surface area of ​​the Earth in a particular area for a year. After examining the map, you can see that the insolation for cities is different and depends on the time of year and region. The highest insolation (5 units) is observed in the Khersons'ka, Dniprovs'ka, Zaporizhs'ka, Odes'ka and Mykolaivs'ka regions, and the lowest (less than 3 units) in the Chernivets'ka and Ivano-Frankivs'ka regions. In other areas, it is from 3 to 5 units.
After seeing how the solar power stations in Ukraine on the map are located, you can see that the first solar power plants are concentrated in areas of the highest level of insolation - in the south of the country. However, now we can observe a tendency to their distribution throughout the territory. The insolation map of Ukraine attracts investors in the energy sector which contributes to the construction of new solar power plants.
The largest solar power plant in Ukraine
In the Dniprovs'ka region, near the village Starozavods'ke, on the place of an abandoned ore mine (near Nikopol), the most powerful and largest solar power station in Ukraine has been launched. The giant SPS was built for the money of investors - the Chinese company China Machinery Engineering Corporation and the domestic company DTEK. 75 thousand solar panels on an area of ​​400 hectares were installed during the year. Currently, the solar power plant has reached its design capacity and produces 290 million kWh per year. This is enough to fully provide electricity to two small cities.
Read also
TOP solar power plants of the World
How the golf stream affects the climate